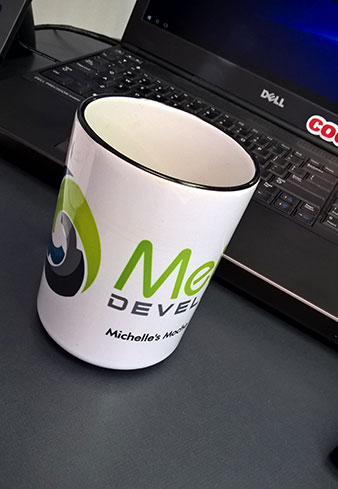 Not all things last... like the cup in this picture, still my favorite coffee cup of all times - the perfect way you held my piping hot coffee in the morning is missed. Yes, the cup broke after a tragic tumble and battle with a stainless-steel sink at our place of work. As for the laptop in the photo, we had some good days old friend. While I HATE upgrading my most important tool of trade, it was time for a change. With mixed emotions, I replaced my old Dell with a newer, slimmer, gaming laptop that can handle the load of visual studio, database software, photo editing software, numerous other apps and of course my favorite RPGs.
We work in a world where hardware and software change quickly, break or need to be upgraded and maintained. You may know the people who fix your computers, tablets or other hardware devices - but who works on all of the software that streamlines processes, collects data, trains users, tracks and reports valuable information and so much more? Today we celebrate us, after 18 years, Method Dev is still working with a wide variety of customers from different industries to build custom software, web apps and websites that digitally transform businesses.
We reflect back on Method Development's years of custom software solutions for Omaha NE local and nationwide businesses and nonprofits. We would like to say "thank you" to our many customers that make our jobs enjoyable - we love designing and developing software to find solutions for your business workflows and data needs! And "thank you" to our team of software engineers, data experts, software testers, and tech project managers - for your drive to create and innovate solutions for our customers has made our business what it is today.
I link to an old post to remember some important things we learned developing software. While the tech is ever changing, the same things matter today as they have since we started this journey - our team has a passion for learning and building new software solutions, quality software matters, frequent software demos during development help result in a better software and good relationships with our customers drive success.
Let me wrap up by saying - if you want to work with a team who is passionate about software and working with your organization to build software solutions that work, contact Method Dev. We look forward to transforming your ideas into software!
Michelle Brozek
Co-owner of Method Development